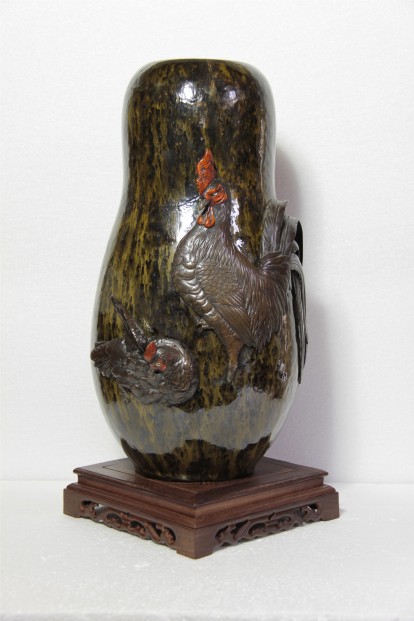 Superb Signed Japanese Makuzu Kozan Vase
From the Maiji period. This masterpiece is one of the Kozan's studios earliest works and is among some of the most desirable in the marketplace. It is very desirable because of its similarities to Satsuma ware and the detailed and natural looking relief work.
The vase contains a large Rooster and a small chick below. The birds are hand cast, etched and applied to the vase and are of the most terrific detail. The birds are even fitted with red enamel detailing and glass eyes  (or enamel). The birds are positioned on the vase body which has a mottled glaze with mixed greens and brown.
The piece is in good condition overall. It has been professionally restored around the top area with an early staple repair and a good paint match up. The piece is signed with a raised tablet seal for "Kozan"
Meiji Period (1868 – 1912)
Image Size: 17 in x 10.5 in
£650.00
1 in stock
£65.00 per month (more info)