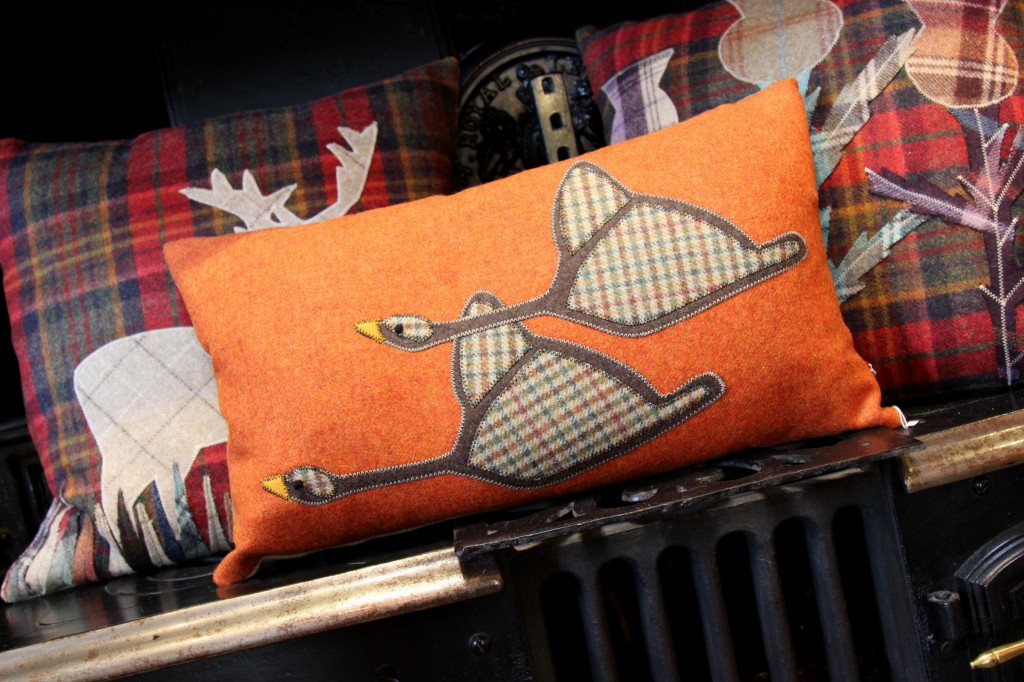 Ah, finally a quiet hour in the gallery to get some Art Head blogging done. Ever since starting to write this blog for Eduardo Alessandro Studios, the contemporary Scottish art gallery in Broughty Ferry, Dundee, I've become quite adept at seizing on the quiet times in the gallery to get some research and writing done.
So now I opened my laptop and pulled up a folding chair. Sitting back, I cracked my knuckles, placing my fingers on the keyboard as inspiration was sure to strike. But something was wrong.
I tried to readjust but there was no getting around it. This folding chair was just uncomfortable. Come on, how is inspiration going to strike when you're preoccupied by the hard, wooden backrest poking you in the back? I could do with a cushion.
Now the nice thing about working at a contemporary art gallery with a gift shop is that we actually stock cushions. So I wandered into the gift shop, wondering whether there might be a cushion I could commandeer as the gallery cushion.
Now would you believe it but I found my colleagues fawning over, you guessed it, cushions! We had just received a delivery of the some of the most unique cushions I have ever seen. Displayed on three tiers in the gift shop, I found myself surprisingly humbled by the sight of pillows. Was it even possible to be humbled by pillows? Well, apparently it is.
You see, these are no ordinary cushions. They are handmade from tartan and tweed and depict Scottish symbols from nature, such as the stag, highland cow, and thistle. These works of art need to go behind glass in a museum exhibit, I thought. I couldn't imagine actually using one.
But then I thought twice about this. Now bear with me, it might seem like I'm going on a tangent about handmade Hungarian pottery, but there is a thread and I will return to the Scottish cushions.
I lived in Hungary for several years after graduating university, going back to my roots and spending time with my Hungarian father. During that time my friend from Transylvania gave me a pair of gorgeous handmade mugs from her little village. I was delighted and couldn't wait for the following morning to have my coffee in them.
The next morning I awoke to my fiancé pouring the morning coffee into our old generic, white IKEA mugs. "What are you doing?" I thundered.
Turns out that David thought the cups were for purely decorative purposes to be hung on the wall. Well of course you hang them on the wall rather than put them away in the cupboard, I told him, but you also drink out of them! I had grown up with such tableware and while we recognised these pieces of pottery as works of art, they also served a very practical function. David's eyes widened in recognition, just as mine were doing so now.
That's when it hit me that it's the same for these gorgeous cushions. And that being an Art Head isn't just about knowing your art history, terms, and practical knowledge, it's also about recognising that functional objects can also be works of art and filling your home with items that are not only functional but handmade and gorgeous.
With this epiphany I realised that not only do I need to learn how to talk like an Art Head but to recline like an Art Head, specifically on a tweed and tartan cushion to protect my poor back from uncomfortable back rests.
I confidently approached my boss, sure that he would not only understand but be delighted by my proposition to commandeer one of the Country House Interiors cushions as the gallery cushion.
Well… it didn't quite work out as I had hoped. I suppose he has a point, what with the materials being carefully sourced and each cushion being handmade. Considering the limited supply, we can't really commandeer one.
Maybe I'll try standing instead. After all, sitting is so last year and standing desks, like those we have in the gallery, are all the rage. Did you know that you actually burn 50 more calories an hour standing than sitting?
Okay, so I'm a little disappointed, but I actually have a much better view of the gift shop from here and its many other pieces of functional art from handmade clocks to artisan cupboards. Yes, it's time to turn my home into an Art Head home and to recline, check the time, and store things like a true Art Head!