Ian Mastin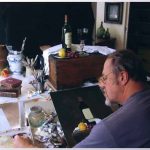 Ian was born in Leicestershire in 1949. His family subsequently emigrated to Australia and he grew up in Queensland. It was only in the mid 1980's that he began to sketch for recreation, and unearthed a natural gift and eye for detail which led him to exhibit his work in a Brisbane gallery where he quickly experienced success.
In 1991 he returned with his family to Britain and settled in East Lothian, from where he gained considerable success exhibiting throughout Scotland and in London.
Ian gains inspiration from many sources including Vermeer and the Flemish and Dutch schools.
TO VIEW CURRENT ORIGINAL PAINTINGS, PLEASE SELECT AN OPTION BELOW…