Eduardo Alessandro Studios, the contemporary art gallery in Broughty Ferry, has been invaded.
Invaded by dancing nymphs.
Dancing, swaying, stretching, and whispering, Karen James' delightful range of ladies has taken up residence in the centre of the upstairs gallery. Sitting back-to-back, doing the can can, and posing as the illustrious Marilyn Monroe, these little nymphs are having a ball. And their joy and mirth is contagious.
So who is responsible for these lovely ladies and what was the inspiration for them?
It must be the Venus figurines, I thought, those mysterious and ancient sculptures found all over Europe dating back to the Palaeolithic era. As some of the oldest artefacts in human history, the Venus figurines have captivated the imaginations of archaeologists and historians of prehistory alike, the debate raging on as to their original meaning. Perhaps it was these figurines that inspired Karen James.
Or maybe I was looking too far back in time and needed look no further than the 20th century with the likes of world famous Columbian artist Fernando Botero or Britain's very own Beryl Cook whose oversized, voluptuous figures continue to delight viewers all over the world.
When I asked my boss where Karen gets her inspiration from, he told me to ask her.
So I did.
And would you know it, but she's also American.
Not just American, she's from Texas, that wonderful Texas drawl taking on a Scottish lilt after decades of living on this side of the pond.
Karen is amused to find herself speaking with another American who has left the states for a British fella. We speak about adjusting to the Scottish climate and the best times to visit the U.S. when flights are cheapest (fly via Florida in February and March).
Finally we get around to the purpose of my call. Taking a breath, I ask her the question that has been preoccupying me for days.
Is it the ancient Venus figurines? Or artistic influences Botero or Beryl Cook?
"No," she says, "They're not really related at all."
Here's the story.
Karen left school in an era when women went into secretarial work or teaching. "I always thought I had an art thing about me that was never brought out," she says in her Texan drawl. Although she worked as a secretary, she followed her passion, taking night classes in clay and pottery, which led to her moving to Florida and pursing an art degree. Then she took a trip to Europe to do a museum and gallery tour and see the works she had spent two years studying. That's when something unexpected happened.
"I ended up in Amsterdam where I met some Americans who owned a Texan bar." Rather than return to the states, she stayed on as a bar tender and it was there that she met her future husband and moved with him back to his native Scotland. They started a family and her art career was put on hold. But only temporarily.
Karen returned to study pottery and ceramics at Cardonald College but decided not to follow her younger classmates to art school. "I had waited long enough to get stuck-in," she explains.
The dancing nymphs were born from a brief in Karen's final year of her higher diploma. It asked students to create a seated figure in a stylised way, showing emotion. "I really struggled with it," Karen admits, "My original figure I tried to do was quite slender."
Inspired by Matisse' Cut-Outs, Karen continued experimenting until she came upon the figure and shape that has become characteristic of her dancing nymphs. Her tutor encouraged her to show them in a gallery and from there she was commissioned to create an almost human sized figure.
Despite this success, Karen says that "in my early days I didn't have any direction as to what poses to make." Then one day Karen saw a few pieces of driftwood lying in her yard and realised that she could use them to create standing figures, which she had wanted to make. "The driftwood was the perfect solution," she says.
Since then Karen's work has taken on a momentum of its own. "Now I feel like what's driving me is the exuberance in the ladies and I'm just working to impart that in my work." Although Karen has tried making mournful and scornful pieces she says, "I just don't get the feeling I get when I do ladies who are really happy being free and active, dancing and singing."
So what's up next for Karen? She's actually pursuing functional art, working away on a collection of vessels. "I'm working on pots that are functional but wonky and textured, bringing the male and female with them." She's also looking into exhibiting in galleries in the U.S.
And considering that she already has one American fan over here delighting in the joy and exuberance of Karen's ladies, I won't be surprised if Karen's work begins cropping up all over the states as well. But for the moment, they're enjoying themselves in bonnie Scotland so come on down to the gallery and join in the fun!
"Andrea, I'm sure you've noticed the new felt paintings we have in the gallery."
I looked at Sandro blankly.
Yes, I had noticed the lovely, new paintings that had just arrived to Eduardo Alessandro Studios, the contemporary Scottish art gallery in Broughty Ferry, but I had no idea what he meant by felt.
In these situations, I always fall back on the good old motto: "Fake it till you make it."
"Yes, of course, the Moy Mackay's," I said smoothly, joining Sandro beside the paintings.
"Amazing, isn't it, how she's reinvented the medium, using fleece fibres to 'paint' as it were."
My eyed bulged. Now that I was looking closely, I realised that these paintings were indeed made out of felt! I had already thought they were lovely, admiring their colours and texture that seemed to intimate an almost magical fairyland, but now I was head-over-heels for them.
Felt paintings? Really?
Go to our website, take a look at these beauties, and then come down to the gallery and see them in the felt. I'm not the only one who was fooled.
I've approached many a gallery visitor, admiring Moy's work: "Amazing, isn't it, how she uses felt to make her paintings?"
So far, no one has been quite as good as faking till they make it as I was.
"Felt? What do you mean?"
Well let me tell you.
Moy's studio is decorated with a wall of hand dyed and carded merino fleece, creating a rainbow of colour for Moy to pull from. After selecting her colours, she builds up layers of merino, just as though she were painting. (And the good thing about working in felt and not paint is that if she doesn't like something, she doesn't have to wait for the paint to dry – she can wipe off the felt and try another shade!)
Once the colours are built up, she then felts the fleece, using hot water and soap to work the fibres together. Finally, she uses a freehand machine to finish the pieces, as well as hand embroidery to add finer detail.
Sound hard? Well, Moy's actually written a book, taking readers through the process and providing lessons to make your very own felt painting. She also offers workshops to learn first-hand what felt painting is all about.
As for myself, I will continue to approach the unassuming gallery visitor, unaware of what new insight she is about to gain. "Isn't it amazing that you can actually paint with felt?"
And now you know the answer: Yes, it truly is.
Just when I had accepted that Ron Lawson paints with gouache and not goulash and thought I had my hunger cravings under control, a new batch of food themed paintings arrived in the gallery.
Ian Mastin's still lifes radiate from the canvas. They almost glow. And furthermore, they look delicious.
Vintage wines, decanters, elegant glasses, French cheeses and deep red fruit emerge from a dark, moody background with startling immediacy. The shadows and lighting are so well done that you are almost fooled into thinking you're looking at a photographic image if not the real thing itself.
Which makes it all the more difficult when you're tummy is rumbling and lunch is still an hour away. How lovely it would be to stroll up the painting, reach in and retrieve a glass of wine, slice of camembert and a cherry. Now that Ian's paintings have been so gorgeously framed up and displayed in the very centre of the upstairs gallery, I literally have to stop myself from doing just that.
But surely still lifes weren't invented to tempt the hungry gallery assistant. What is this fascination with painting food, I wondered. I recalled from art class that the still life serves as the fundamental composition for all artists starting out. Even then my stomach would rumble and I would be preoccupied by thoughts of food rather than developing my technique. Still, was this really the origins of the still life?
Turns out the answer is far more interesting, not to mention ancient.
Get this: Ancient Egyptians used to decorate the interior of tombs with images of food; they believed that in the afterlife the food would become real and nourish the deceased!
In Ancient Rome, still lifes played an active role in everyday life with wealthy Romans adorning their homes with images depicting the range of food enjoyed by the upper classes. Apart from showing off their bling, these images were also signs of hospitality. (And if I were welcomed into someone's home whose walls here hung with Ian Mastin's paintings, I would sure hope that some fine wine and grapes would follow!)
Ancient Rome had inherited the still life from Ancient Greece, where it had become an established genre with the help of Zeuxis and Parrhasius, who duked it out for the title of greater artist. Zeuxis painted a picture of grapes – so lifelike was it that birds flew down to peck at the illusory fruit. Next, Parrhasius presented his painting, hidden behind a curtain. Zeauxis asked his rival to draw the curtain aside, but for naught. The curtain was the painting! Zeauxis humbly bowed his head in respect, "I have fooled the birds, but Parrhasius has fooled me," he admitted.
Ian Mastin's paintings grow out of this tradition. He is especially influenced by Dutch and Flemish 17th century Masters who revived the Ancient Greek tradition of trompe-l'œil, which Parrhasius and Zeuxis had so adeptly championed. Trompe-l'œil is a technique that aims to depict everyday objects in three dimensions, creating an optical illusion.
Ian is also influenced by chiaroscuro, a technique that uses contrasts of light to create a sense of volume. Originating in the Renaissance, artists worked from the paper's base tone towards light; it's chiaroscuro that's responsible for the way Ian Mastin's figs and cherries emerge as if from nowhere with such vibrancy.
Through his paintings, Ian aims to draw his viewers into a reflective state, focusing on old objects whose value rests in the richness of their history and hands they have passed through. By using an ancient and timeless subject matter and employing such wonderfully old and traditional techniques, Ian achieves his aim thoroughly.
And what's this? My stomach has ceased its rumbling, so immersed have I become in the history of the still life.
Although that doesn't change the fact that if I could stroll up to an Ian Mastin painting and lift out a tray of scrumptious delights, I would definitely be taking my lunch break early!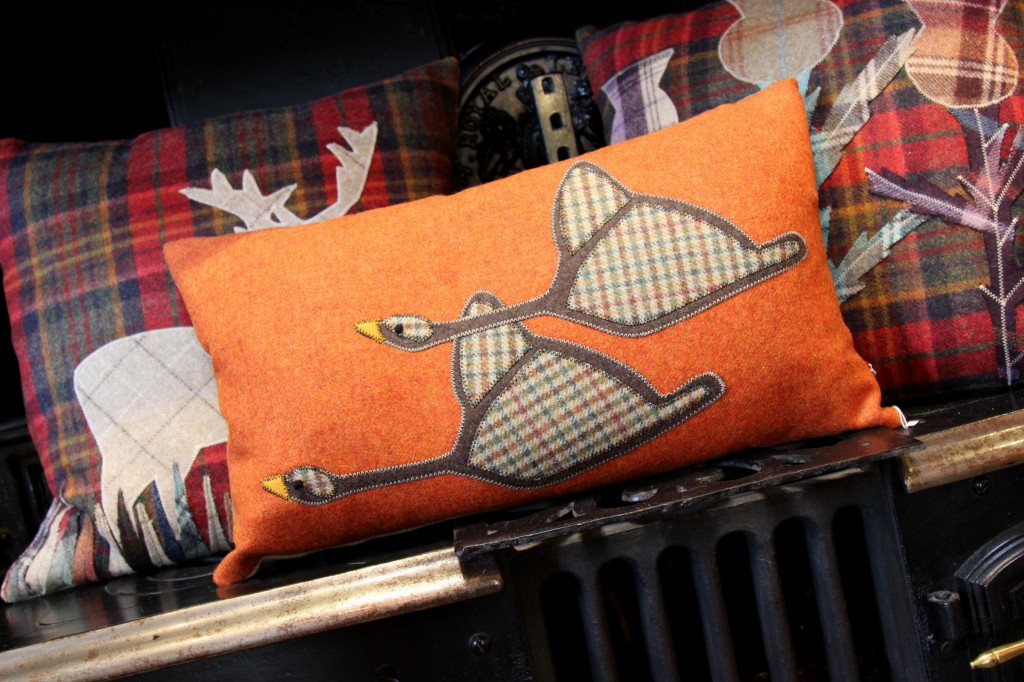 Ah, finally a quiet hour in the gallery to get some Art Head blogging done. Ever since starting to write this blog for Eduardo Alessandro Studios, the contemporary Scottish art gallery in Broughty Ferry, Dundee, I've become quite adept at seizing on the quiet times in the gallery to get some research and writing done.
So now I opened my laptop and pulled up a folding chair. Sitting back, I cracked my knuckles, placing my fingers on the keyboard as inspiration was sure to strike. But something was wrong.
I tried to readjust but there was no getting around it. This folding chair was just uncomfortable. Come on, how is inspiration going to strike when you're preoccupied by the hard, wooden backrest poking you in the back? I could do with a cushion.
Now the nice thing about working at a contemporary art gallery with a gift shop is that we actually stock cushions. So I wandered into the gift shop, wondering whether there might be a cushion I could commandeer as the gallery cushion.
Now would you believe it but I found my colleagues fawning over, you guessed it, cushions! We had just received a delivery of the some of the most unique cushions I have ever seen. Displayed on three tiers in the gift shop, I found myself surprisingly humbled by the sight of pillows. Was it even possible to be humbled by pillows? Well, apparently it is.
You see, these are no ordinary cushions. They are handmade from tartan and tweed and depict Scottish symbols from nature, such as the stag, highland cow, and thistle. These works of art need to go behind glass in a museum exhibit, I thought. I couldn't imagine actually using one.
But then I thought twice about this. Now bear with me, it might seem like I'm going on a tangent about handmade Hungarian pottery, but there is a thread and I will return to the Scottish cushions.
I lived in Hungary for several years after graduating university, going back to my roots and spending time with my Hungarian father. During that time my friend from Transylvania gave me a pair of gorgeous handmade mugs from her little village. I was delighted and couldn't wait for the following morning to have my coffee in them.
The next morning I awoke to my fiancé pouring the morning coffee into our old generic, white IKEA mugs. "What are you doing?" I thundered.
Turns out that David thought the cups were for purely decorative purposes to be hung on the wall. Well of course you hang them on the wall rather than put them away in the cupboard, I told him, but you also drink out of them! I had grown up with such tableware and while we recognised these pieces of pottery as works of art, they also served a very practical function. David's eyes widened in recognition, just as mine were doing so now.
That's when it hit me that it's the same for these gorgeous cushions. And that being an Art Head isn't just about knowing your art history, terms, and practical knowledge, it's also about recognising that functional objects can also be works of art and filling your home with items that are not only functional but handmade and gorgeous.
With this epiphany I realised that not only do I need to learn how to talk like an Art Head but to recline like an Art Head, specifically on a tweed and tartan cushion to protect my poor back from uncomfortable back rests.
I confidently approached my boss, sure that he would not only understand but be delighted by my proposition to commandeer one of the Country House Interiors cushions as the gallery cushion.
Well… it didn't quite work out as I had hoped. I suppose he has a point, what with the materials being carefully sourced and each cushion being handmade. Considering the limited supply, we can't really commandeer one.
Maybe I'll try standing instead. After all, sitting is so last year and standing desks, like those we have in the gallery, are all the rage. Did you know that you actually burn 50 more calories an hour standing than sitting?
Okay, so I'm a little disappointed, but I actually have a much better view of the gift shop from here and its many other pieces of functional art from handmade clocks to artisan cupboards. Yes, it's time to turn my home into an Art Head home and to recline, check the time, and store things like a true Art Head!
Giclée wasn't the only foreign word that puzzled me when I started working at Eduardo Alessandro Studios, the contemporary Scottish art gallery in Broughty Ferry. While I came to learn that giclée refers to a printing method for high quality prints, there was another mysterious word beginning with the letter 'g' that also eluded me: gouache.
In fact, when I first came across this term, describing the medium Ron Lawson works in, "watercolour & gouache," I misread it for "watercolour & goulash."
Goulash, of course, is that wonderful Hungarian stew of beef, potatoes and vegetables, traditionally simmered over an open fire to perfection. I grew up on the stuff, my Hungarian father determined to bring up his American daughter the right way, and I can't help salivating at the thought of this scrumptious meal.
But at the moment all I could think about was the image of Ron Lawson dipping his watercolour brushes into a pot of goulash. I should have stopped there, recognising this for the absurd image it is, but my brain doesn't work that way.
What a waste I thought sadly, shaking my head. Why would Ron sacrifice such a tasty meal for the canvas? Surely he wouldn't do this. Perhaps Ron eats goulash while he paints in watercolour. Now that makes more sense, I thought. Surely a bright, talented man such as himself would know a meal fit for kings when he saw it.
Then I heard something rumble and looked down to discover that it was my stomach. It occurred to me then that Ron Lawson might not work in "watercolour & goulash" – perhaps I was just hungry. So hungry, it seems, I was becoming a little delusional!
So what is this gouache then?
On my first day at the gallery I asked my boss how Ron Lawson achieves the almost luminous effect that makes his paintings appear almost collage-like. "Well you could ask Ron, but then he'd have to kill you," was Sandro's cryptic response. Not wanting to anger this great goulash eating painter, I can only suggest that part of his secret must be gouache.
Gouache (pronounced like goulash but without the 'l') is pretty neat. It's similar to watercolour paint but more opaque due to its higher ratio of pigment; the presence of white pigment creates its opaque quality. This means that unlike watercolours, which are translucent, gouache can be used on a dark surface. It also allows for thick, flat coatings of paint, creating a matt finish, that would be difficult to achieve with watercolours.
And herein lies a piece of the puzzle: it is gouache that is responsible for Ron Lawson's dark brooding skies. Against this heavy, uniform backdrop of gouache, Ron's white cottages and sheep emerge from the page with striking immediacy.
Ron isn't the only fan of gouache. My artist colleagues here at the gallery gush about the medium. One colleague works primarily with gouache because it dries quickly, a quality it is widely known for. Artist forums are also full of praise for gouache as an "all-purpose" medium – with the opacity of oils, water-solubility of acrylics (without drying out brushes) and the easy set-up of watercolour, not to mention its matt finish that makes gouache paintings conducive to photographing as well as making prints from. Sounds pretty awesome! Be careful, however, unless you use a fixative, gouache remains active after drying and is actually rewettable. This means you can go back years later, rewet and rework a painting!
Quite a dynamic medium, if you ask me, perfectly suited to be paired with goulash – that peasant dish that has risen to princely prominence. I would quite like a world in which food was paired with art medium. Perhaps we could sample certain dishes as we view artworks for an added experience. "Oils and moussaka," "Mixed media and pad thai." Perhaps I'll suggest it to my boss. Or perhaps it's just dinner time!